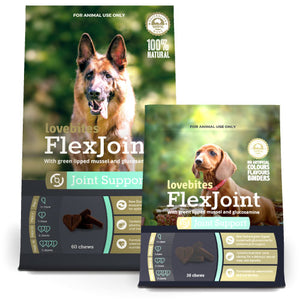 Visible joint improvement in just 1 month!
We have a 12-year-old Siberian Husky who was showing signs of possible joint discomfort: he couldn't be active for prolonged periods of time, his back legs would fail him sometimes, especially when walking up and down the stairs and were also quite shaky at times. We have been integrating his diet with FlexJoint Chews (3 a day), as well as other products from Vetafarm (Predamax, DentaShield, LiverPro). We were amazed by the notable improvement after just 1 month! increased endurance and stamina, more strength in his back legs, which are also much less shaking, elevated energy level and activity.
We are so glad to see these fantastic results! Sikari looks much younger and his coat has also improved!
We will definitely continue integrating Sikari's diet with Vetafarm products!
My dog loves these!
I have an almost 2 year old Rottweiler x Blue Healer.
Early osteo issues are already a thing so I've been giving him these chews daily.
He just loves them. They are yummy treats as far as he is concerned. He doesn't care they are also good for him.
I've just ordered more.
Thanks!
Thanks for your review Jennifer!
We're so glad to hear they are helping your pup - and you can rest assured knowing you are looking after his joints as he ages!
Very prompt service and products are well presented on arrival. Dogs really enjoy the taste of the FlexJoint (boxers). Seems to be an improvement for my older girl - not limping as much as before and enjoying her walks and running around like a puppy. I also give it to my younger dog as a preventative measure.
LOVE FlexJoint
I have a 12 year old Catahoula Leopard dog called Keemah. She is a large dog and I had noticed she pulling up very sore post walks. She tried FlexJoint (chews) and within two weeks she was a different dog. Running and playing on our walks for short bursts and minimal signs of soreness the next morning. We are very happy and now long term customers. Susan
6 star review!!
Flex-Joint chews are a part of a range of the best doggy chews ever!!
1. They are love heart shaped.
2. They break in half easy.
3. They full of goodness.
4. They are soft.
4. And my dog absolutely loves them.
5. Plus beautiful packaging with a doggy bone shaped opening tab.
6. And they are a natural alternative for joint health with no hidden nasties.
Highly recommend.